More Similarities between Flagellum and Human-Designed Machines
In 1998, Darwinian biologist David J. DeRosier stated in the journal Cell, "More so than other motors, the flagellum resembles a machine designed by a human." Firstly, it functions like a human-designed rotary engine that propels a bacterium through a liquid medium in the same way a propeller powers submarine through the ocean. A website devoted to rotary engine enthusiasts has observed that when it comes to the Rotary engine, "Nature always does it first." The flagellum is basically a rotary engine, with a motor, a rotor, a stator, a bearing, a u-joint, and a propeller. Now it turns out that the flagellum has a clutch. According to recent Research Highlights from Nature:
"A protein that allows the soil bacterium Bacillus subtilis to quickly halt its propeller-like propulsion and thus stick to a surface has been identified by Daniel Kearns of Indiana University in Bloomington and his colleagues. EpsE, the protein, seems to act like a clutch rather than a brake; it leaves the rotors that drive the bacterium's flagella unpowered but spinning freely rather than slowing them down."
A schematic showing some of the common "engine parts" of the flagellum can be seen below, borrowed from the Access Research Network: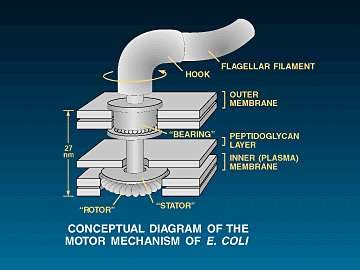 Perhaps now this diagram needs to add a clutch!